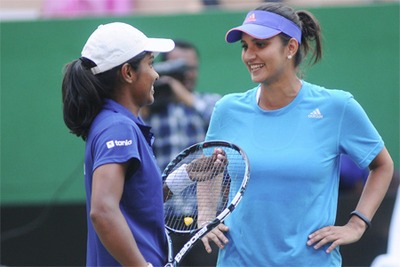 Rio Olympics: Small town girl Prarthana Thombare ready for big show
Prarthana Thombare still remembers the 70km ride to Solapur she would undertake on the pillion of her father's two-wheeler every morning when she was barely in her teens.
There was just one mud tennis court in her native town Barshi and she wouldn't get enough time to play there because of other club members and kids. After she won the School National Under-14 gold at the age of 10, her parents realised the need for an upgrade and decided to move to Solapur.
"I would wake up every day and go all the way with my father to play tennis and ride all the way back. We did that for one and a half years," said Prarthana with a smile, as she recalled her years of struggle.
But that was then. Now, in just over a fortnight, the 22-year-old will be partnering Sania Mirza, the World No. 1in women's doubles, in the Olympics.
It has been an incredible journey, one which has seen the Lakshya-Bharat Forge-supported player rise to 196 in world rankings in doubles. She has three ITF singles titles to her credit and 17 in doubles so far. "I was not aware of it at all," she said when asked if she was aware of the global stars of the game during her early days. "For me it was a hobby, and it was the only sport I played all my life. Coming from a small town, I didn't have the best technique but my focus at that time was on fitness, which helped me later."
Prarthana has grown as a player, and by implication as an individual, in the last two years. She was a bronze medallist with Mirza at the Incheon Asiad in 2014. More importantly, she has reached 16 doubles finals at the $25,000 level and won 12 of them.